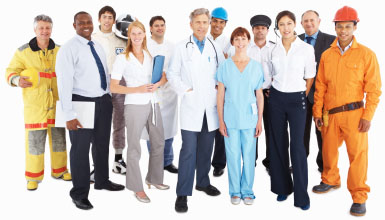 Specialists in Vocational Rehabilitation Counseling
Grant & Associates is a full-service vocational rehabilitation and career-counseling firm with headquarters in Olympia and Federal Way, Washington with 15 other service locations. Since 1986, we have been successfully serving industrially injured workers and individuals in search of new career or job opportunities. Our counselors are highly experienced vocational analysts and experts, trained in local/internet labor market trends as well as broad career and occupational issues. Supervision and quality control are strong values at Grant & Associates. We want to assure each of our clients and customers that they are getting the best possible service for their investment. We strive to be the best provider of vocational services by investing heavily in quality personnel and in intensive and ongoing training for the counseling staff.
We can get you back in the game!
Adult Americans spend half of their waking hours working. With this significant investment of time and energy in a job or career, taking the opportunity to explore interests, aptitudes, life goals, and job market trends just makes good sense!
Career and Life Planning are broad terms which entail gaining knowledge about one's self, the job market, and career options in order to make the best choice for yourself. Just when you think you have your life in order, it shifts in another direction. By using the services at our Career Clinic, you will be prepared for each shift in your life.
Become the Employer of Choice
We have built this business on a commitment to excellent customer service. We will help you develop a light duty return to work program or create job analyses banks, or work with you and your injured worker. We know how to get things done quickly and efficiently so that you do not have to extend any further effort on the claim in regards to vocational issues. We are experts in this field who can assess the situation, suggest a course of action, and implement the agreed upon action without wasting another moment on process. Our goal is to reach claim resolution as quickly as possible while utilizing our extensive experience and expertise without jeopardizing the interests of our customers or clients.